Just want to share the latest 3 families that have been added to the
adoption fund raising efforts
!
Noel and Donna Dear
God has truly blessed our family over the years. We stand in awe of his blessings that we do not deserve. My husband is a senior pastor in Ohio, but we are originally from MS and AL. We just celebrated 15 years of marriage this summer. We were not sure if we would be able to have children, but through God's goodness He blessed us with 2 beautiful daughters. Adoption was talked about, but nothing ever serious. We have several friends who have adopted both domestically and internationally. I would feel little nudges that maybe we should think about it, but I would push those thoughts back. I was happy with our family of four.
Over the past year or so, the nudging from the Lord became louder. The movie "The Blind Side" came out, and when we left the movie I made a little joke about adopting, and my husband said yes. Again, I pushed it aside. My husband has always been ready I believe. Our church has helped orphans in Kenya, and has had a friend of ours come in and talk about adoption. This past summer we were at the Southern Baptist Convention and there was a big push for ministers to step up and help out the millions of orphans around the world or to help families who are adopting. During one of the speakers, God spoke to me and told me it was time. No more putting it off. When he spoke of how the girls that are not adopted could potentially spend a life that I would not want my daughters in, I just knew that is what our family should do. The funny thing was that I was going to bring it up at dinner, and my husband was the first to do so, and I just said YES! I am ready.
Several have said, why another girl - it is what God has laid on our hearts - a special needs girls from China. We want to show this girl the love of a family as well as the love of a Father that has known about this before we did. We didn't know originally where when we started, but God has lead us to China and the agency we chose.
Read more about our story here:
http://increasingheartandhome.blogspot.com/
Whit and Allyson Roesch
We are so excited to grow our family through adoption! We met in 2004 and were inseparable from the start! We dated for two years and were married in 2006. After struggling to start a family for a few years we decided to pursue adoption. As soon as we started looking into adoption we knew it was God's plan for us. It seems like we jumped one hurdle after another during our fertility treatments but as soon as we started the adoption process everything just fell into place. It has been absolutely amazing watching God's hands at work in our lives! Our family is so happy for us and our decision! They have been doing everything they can to help us bring our little one home. We are working with Christian Family Care in Phoenix, Arizona and couldn't be happier with them. They have been such a wealth of information and have helped guide us through this scary, yet thrilling adventure. We are truly blessed to be embarking on such an amazing journey!
Rob and Tabby Whapham
Howdy Ya'll! We are from a small town in Texas and we have been married for 11 years. We are blessed to have 3 amazing kids, Brittney (21), Daniel(16), and Grace (8). Our family is a testimony to how amazing God's grace is and what wonders He can do with a blended family.
With our oldest daughter approaching the age of marriage we honestly never thought we would be adding another member to our family, unless it was a grandbaby! However, God had different plans. It's been almost 10 months ago now that God laid an incredible burden for the orphans of this world on my heart. Like Sarah in the bible, I laughed when I felt He was leading us down this path and promised to 'pray' about it. Over the next several months that burden deepened and God truly broke my heart for these children. I did not seek out His plan as steadfastly as I should have and yet He still brought me face-to-face with information, people, adoptees, and offered confirmation in my daily life that led me time and again back to these tiny people.
When we as a family begin to talk and pray about adopting, there was no doubt in any of our minds that this was where God was leading us…and the confirmations kept coming. We really began to understand the charge in the Word to look after the widows, homeless and orphans.
We are excited and terrified at this prospect! More than all of that, we are holding fast to the promises that God has made for us…and for this little person. A promise for a 'hope and a future.' And so we step out in faith trusting that He will make a way where there seems to be no way.
Thank you for being willing to share in our journey. You can follow along at:
http://www.wewant1more.blogspot.com/
And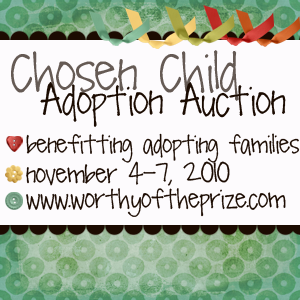 Remember the Adoption Auction is coming November 4th - 7th to
Worthy of the Prize
!
We still need your help to spread the word about it!
Click HERE for more info on how you can help and how you could win a $50 gift certificate to Cap Creations for your efforts!
Not a lot of entries folks! Are you sure you don't want to enter???