On Nov. 4-7, 2010,
Worthy of the Prize
will be hosting an auction to benefit
adopting families
. This would be a great way to do some Christmas shopping. You'll get some gifts for loved ones and at the same time help out some families that are trying to bring their children home! Which is the greater gift??? Mark your calendar and be there! You may want to
follow them
so you don't miss it.
Also if you have an item that you'd like to donate to this auction please contact Worthy of the prize at
worthyoftheprize@yahoo.com
or find more info
HERE
.
Lastly, your help is needed to spread the word about this great auction. So PLEASE blog about it and post the smaller button (below) on your sidebar. It may be worth your while!
You could win a gift certificate for $50 to Cap Creations just for spreading the word! Here's how:
Blog about the auction going on at Worthy of the Prize on Nov. 4-7 using the larger button below. And since you're posting about it why not post about this giveaway too with a link back here? It is about spreading the word after all! Then come back here and leave a comment saying you did.
and/or
Post the smaller button below on your blog sidebar, then come back here and leave a comment saying you did.
That's 2 chances to enter! Please leave links so we can check them out and an email if not in your profile in case you win!
Button for your blog post.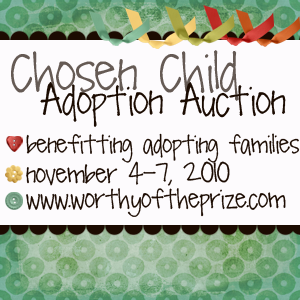 Here is a smaller button for your blog sidebar!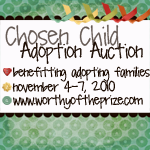 Thanks for helping promote!! Good luck! Winner will be announced Nov 3rd!
Be sure to check back on Monday for another exciting announcement! :)