We have a winner for the Worthy of the Prize Fit Band!
But first I want to tell you about the really neat link party that Worth of the Prize has recently started.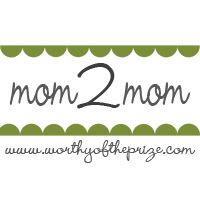 It's called
Mom 2 Mom
and each week they will share a mommy tip that works for them. You are then invited to link-up your mommy tip. They are looking for tips that work for you---mommy resources, easy recipes, indoor boredom busters, decorating ideas, crafts, toddler teaching techniques, faith-talks for children, potty-training tips, organizational tools, etc.
And now for our winner!
Lucky #2 who is Lori!!! Yay!!! Lori has won this!