Just a reminder that our
Christmas Giving Giveaway Event
is still going on through the 30th. I must say I was slightly disappointed with the number of participants. :( Not many linked up to the Christmas Giving Giveaway. Oh well better luck next year. That is if you think we should do this again next year. Not feeling the love. The Christmas giving love. (Well except for a few good loyal blog friends! ) What do you think? Should we do this again?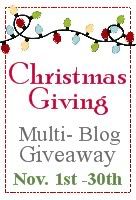 There are a few really great items up for grabs! If you have not checked them out or entered to win you you may want to cause there's not much time. All winners are to be announced on Nov 30th at each participating blog.
Worthy of the Prize
is giving away one set of Fit Cards and a Fit Band of your choice! These are so neat!
And we (Cap Creations) are giving away 2 necklaces, winner gets both!
One Christmas Stocking Necklace.
And one Gather Around Necklace.
Another reminder, the
Distle Funk
giveaway is still going on too. Win 2 cookie stamps!