Welcome to the Christmas Giving Giveaway! This event will last now through November 30th. This is a month-long, multi-blog event where bloggers will giveaway on their blogs, something they feel represents Christmas or something they feel would make an excellent Christmas gift!
Scroll down to see the list of giveaways added so far.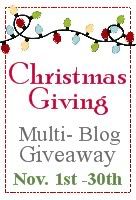 Everyone is invited to join at any time during the month of November by linking their giveaway and/or entering to win all the giveaways!
An ongoing link list of the giveaways will be kept here at
Cap Creations
for the entire month. So you can come back each day to see what new giveaways you can enter to win! On November 30th all bloggers will contact and announce their winners on their blogs!
Will you join us? Here's how!
1.
At any time during November, post your giveaway on your blog.
This is your giveaway so include your own rules for entering. (how to enter, where you will ship and so on)
2.
In your giveaway post, include a link back to this post so everyone knows that there are other giveaways to be entered.
Feel free to use the giveaway button above, the more people that know about this event the better!
3.
Come back and add your link to the giveaway list!
4.
Announce the winner of your giveaway on your blog on November 30th and get it shipped out to arrive by Christmas.
Please do not end your giveaway before the 30th.
This link up is specifically for our

Christmas Giving Giveaway Event Nov. 1st - 30th.

Any links added without following the steps above will be deleted. Sorry, but simply re-read the steps above and link up again!
Finally this giveaway should be something you feel represents Christmas or something you feel would make an excellent Christmas gift! It could be something you make or if you don't make anything you could go out and get a little something together! Anything is fine! It is about giving after all!
Please contact me with any questions!
Christmas Giving Giveaway Participants
This list will be updated through out the day each day until November 29th 11:59 pm pacific time, as participants add their giveaways.
If your Christmas Giving Giveaway has been posted to your blog and you have linked back to this post please enter the link to your giveaway below!