We've got just under one week until our Christmas Giving Giveaway Event begins! Are you ready to join in? Be thinking about what you will be giving away and get ready to link it up!
This is a month-long, multi-blog event starting Nov. 1st. where bloggers will giveaway on their blogs, something they feel represents Christmas or something they feel would make an excellent Christmas gift! Everyone is invited to join at any time during the month of November by linking their giveaway and entering to win all the giveaways! An ongoing link list of the giveaways will be kept here at Cap Creations for the entire month. You'll want to come back each day to see what new giveaways have been added! On November 30th all bloggers will announce their winners on their blogs!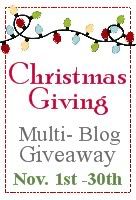 1. At any time during November, post your giveaway on your blog. This is your giveaway so include your own rules for entering. (how to enter, where you will ship and so on)
2. In your giveaway post, include a link back to the main list here at Cap Creations. (The main list will go live on Nov. 1st. at 7 am pacific time.) Feel free to use the giveaway button above, the more people that know about this event the better!
3. Come back and add your link to the giveaway list! (Remember the main list will go live on Nov. 1st. at 7 am pacific time.) Giveaways added without following step #2 above will be deleted. Sorry!
4. Announce the winner of your giveaway on your blog on November 30th and get it shipped out to arrive by Christmas. Please do not end your giveaway before the 30th.
Finally this giveaway should be something that represents Christmas to you or something you feel would make a great Christmas gift for someone. It could be something you make (that would be awesome) or if you don't make anything you could go out and get a little something together! Anything is fine! It is about giving after all!
Also be sure to enter to win all the giveaways! Maybe you can get some loved ones checked off your Christmas list! ;)

If you have any questions please let me know!